Moving around La Paz is chaos, whether inside or outside a vehicle. Its hills, many markets or its 3,640 metres in altitude make things complicated. You have to get accustomed to an elevated heart rate, legs that seem to weigh extra in that thin air, and all the aromas, sounds and colours of the capital of Bolivia, with its 2.7 million residents. All this could be upsetting to urban planners and traffic managers. And at times it is. But 18 years ago someone improvised a project that has become an emblem of the country. We're talking about Proyecto Cebra de Educación Urbana (Traffic Zebras Project for Urban Education), a different way of teaching traffic safety along the main thoroughfares.
The idea is simple: from "their" pedestrian crossings, people disguised as traffic zebras direct walkers and drivers. How? By teaching them what they have to do: by stopping traffic when the light is red for cars, and by waiting on the pavement when it's the turn of the pedestrians who are waiting. Otherwise, these "traffic zebras" roll around on the ground while they're waiting to take action, harangue the masses with urban education posters that thank them for obeying the rules, or whinny at the bad behaviour of their human companions. They also click their hoofs when someone does things the right way, speak words of support, and warn people about basic precautions (and obligations) such as buckling up seat belts or not talking on the cell phone while driving.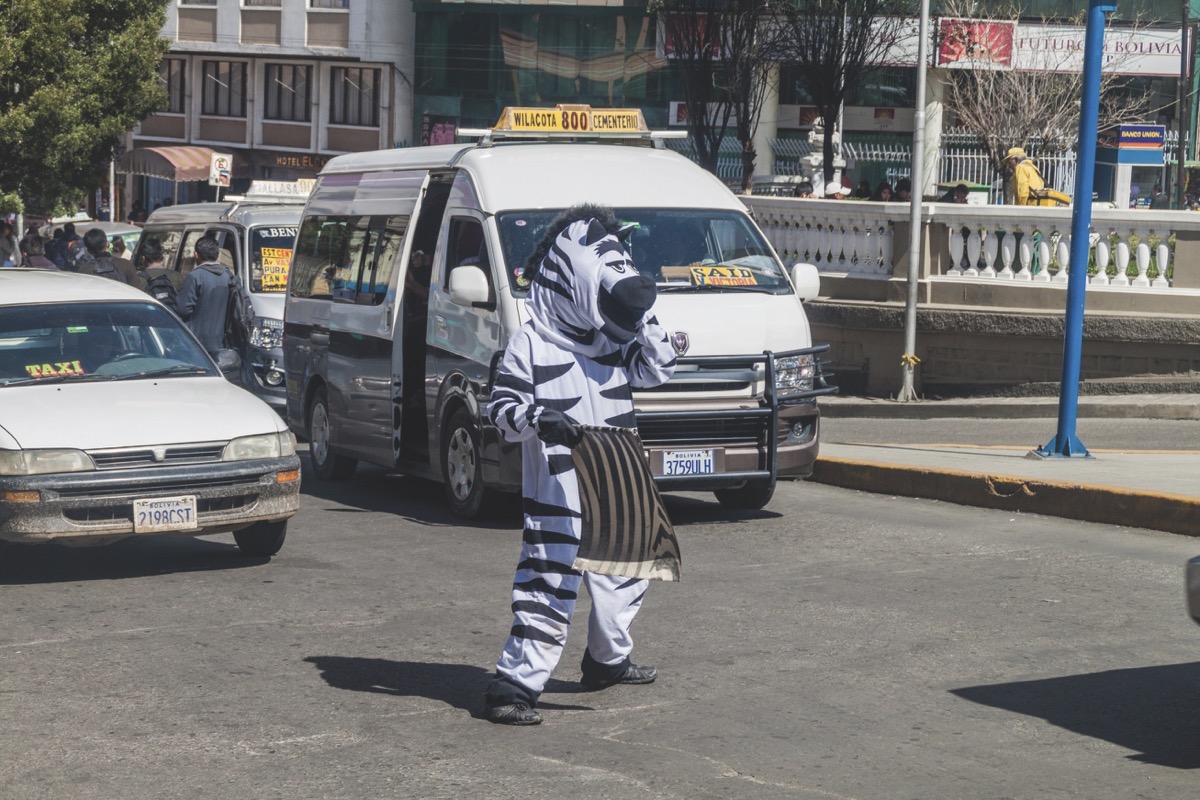 It all began in 2001 with just two "traffic zebras." It was dreamed up by two theatre students. Soon they were joined by a "mother zebra," played by ballerina Kathia Salazar. She made the project prosper and spread by applying more grace than a mechanical traffic cop ever could: she wanted to teach participants an artistic language, theatre, expression and dance. And so it grew, beyond anecdote and scepticism, to be designated a Cultural Heritage of Humanity in 2014. It is not only there on the street level but has been enshrined in municipal murals and diptychs. And it has reached other cities such as Santa Cruz de la Sierra, Bolivia's second city (1.4 million residents), Tarija and Sucre.
"The most interesting thing is that the kids themselves have adopted the attitude that the habitual aggression and shouting in La Paz are not the way to solve problems. In the beginning some zebras were beaten up or even run over, but little by little things changed and today it is the pedestrians themselves who defend them," Salazar declared in an article in the Spanish daily El País. Today she is a councilwoman in the La Paz city hall and secretary of the Commission for Human and Cultural Development.
In 2014 it was designated a Cultural Heritage of Humanity and now it is reflected in the streets and in municipal murals and diptychs
On the municipal website she describes her job, comparing it to the work she began on the streets: "My presence on the council represents the spirit of the Zebra attitude and civic culture. I want to encourage people to go on building in a space where all of us can live with harmony, respect and love. My contribution as 'mama zebra' on the council promotes that: incentivizing a culture of peace and establishing relations with everyone so that, together, we can fully develop our values, rights and responsibilities." For the moment, in addition to ordering traffic, the urban education project has given some duties to many young people who were adrift. "We want it to be a means of integrating young people. In La Paz many of these kids wouldn't have a chance. But when dressed as zebras, we're all equal,  we don't ask questions and we wear the same stripes," she told that newspaper.
In 2015, this traffic zebras herd was constituted as the Club Cebra. Its motto: "Zero complaints, full action." And a few months ago its influence reached the United States, thanks to the TV comedian John Oliver, who mentioned the movement, along with the hashtag #Justaddzebras, which became one of the most popular on Twitter. According to Oliver, everything worked better if you put on a zebra head. It may have been a joke, but in Bolivia it's being demonstrated in the traffic, and in spite of geographic and social adversities.
Text: Alberto García