The love of cars is emphasized by the movies, which present unique (and fictional) models for those who want a replica.
Teo Martín, from the Motor and Sport Institute (MSI), is unequivocal: "A collector's car is one which, due to its track record and age, can be a highly desirable item which happens to be part of a museum or a private collection". This veteran professional believes that collectors are driven by curiosity, gradually gathering unique pieces.
"The feeling of owning idiosyncratic cars is important. In our case they are race cars. And the satisfaction is knowing the history of the vehicle, what it has achieved," he explains. "The models we most look out for do not have to be the most expensive, but rather the ones with the longest history." At MSI they look for the drivers who used them. "There are many cars that we would love to have. Some are not available because the owner does not want to sell them. And, in many cases because we cannot buy them", he says.
Those with the "the most value", Martín emphasizes, are those of the Gr B Rally and other categories such as circuits and raid rallies. Within this world, there are other avenues to mine, like tuning and movie cars. The two are often linked: to produce models that appear in movies, it is necessary to have the skill to decorate them. Who hasn't dreamed, even as a child, of driving a famous car from the movies?
Back to the Future, Batman, and Ghostbusters, which allowed us to face ghosts. These are examples from audiovisual culture that have shown us cars that outshine the main characters and that, after seeing the film once, or even many times, leave their impression on us, inviting us to seek them out. Some even try to turn them into reality. Here are ten of the best, but the list is by no means complete: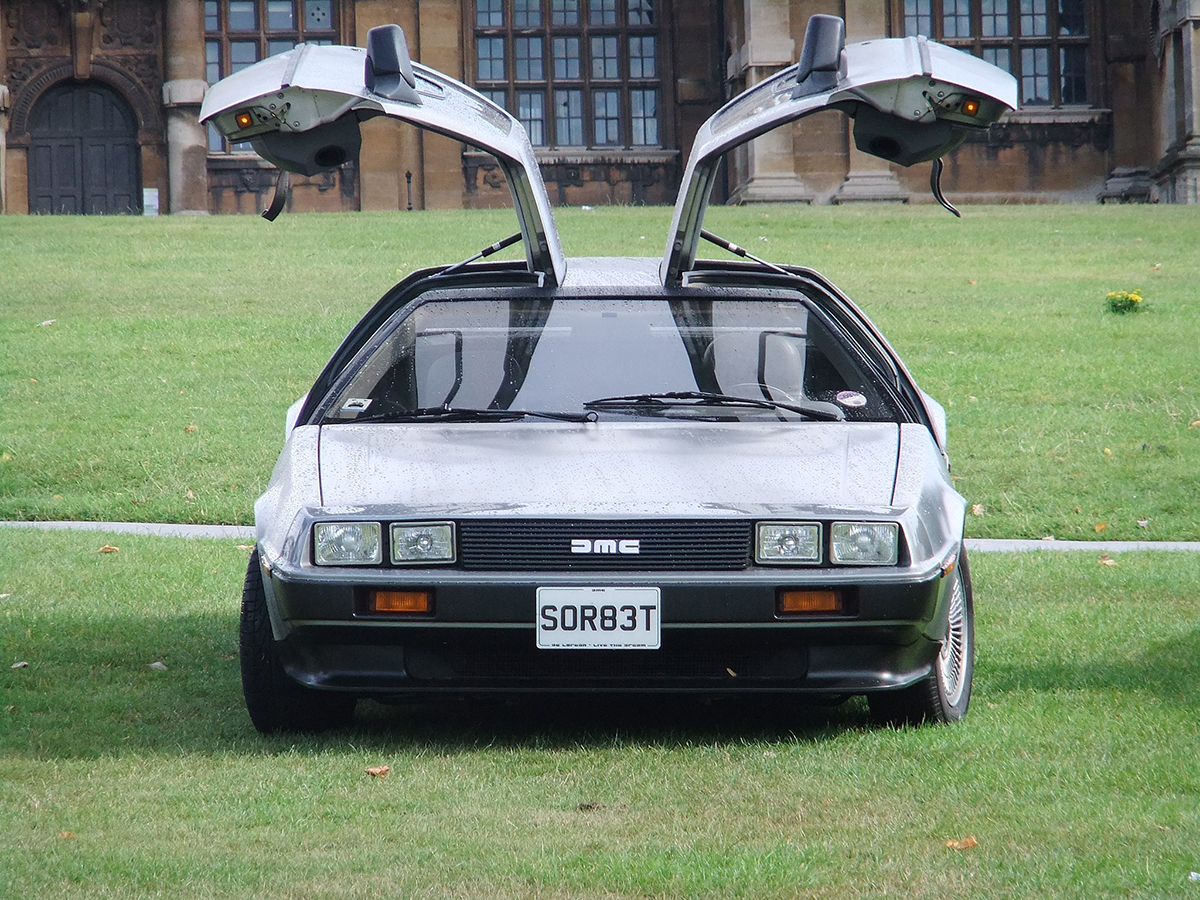 –
Back to the Future (1985): DeLorean DMC-12.
To those of a certain age, the word DeLorean will set off a lightbulb: Will I be able to travel back in time? Will there be hoverboards in a few years? It is the name of the car owned by Martin McFly, the protagonist of Back to the Future played by Michael J Fox. In reality, the model is a John DeLorean DMC-12. Designed by Giorgetto Giugiaro, it had a 2.9-liter V-6 engine and 130 horsepower. The film exploited its futuristic look, although there was some sleight of hand involved: the mechanics replaced the engine with a V-8 from the Porsche 928. This helped the characters reach 141 km/h, which would make the Flux Capacitor kick in and send them back to 1955. It went on the market in 1980 and continues to be a collector's item.
–
Mad Max (1979). XB GT Ford Falcon (1973).
Australian production, Australian protagonist, Australian car: in Mad Max, a Falcon XB GT with a 5,755cc engine was used. The original car was given a facelift: it had a new front end plastered on, the body was adorned with huge flares and fitted with very thick tires. The centerpiece protruded from the hood. In the movie, there was a power line that allowed it to jump, a feat that, beautiful as it was, has not been repeated since.
–
Batman Begins (2005): Batmobile/Tumbler.
The Batmobile is a key element in the Batman movies. It has passed from film to film and from generation to generation. The version in director Christopher Nolan's 2005 film, with a new Batman, is the most striking. Debuting in Batman Begins, it altered George Barris's original 1960s design. It is a 5735CC Chevy V-8 that goes from 0 to 60 mph in about five seconds. It included 37-inch all-terrain tires that could be twisted horizontally, vertically, and inside out, hence its name, 'Tumbler'. The body reportedly had more than 65 carbon fiber panels.
–
The Big Lebowski (1998): Ford Gran Torino (1973).
As a change of pace from car chases and superheroes, we go to something more mundane: the car of 'The Dude', the main character of The Big Lebowski. This movie by the Coen Brothers became a cult classic for a legion of fans. The car in which a disheveled Jeff Bridges pottered about was a 1973 Gran Torino. It may look junky, but it was the unsung hero in The Big Lebowski. It was actually a redesign of the 1972 model, with a longer nose. Interestingly, two were used: one that was destroyed in the film and another that was later seen in Season 8 of The X-Files.
–
Goldfinger (1964): Aston Martin DB5.
Another unmissable legend: James Bond. The vehicles in this saga are iconic, but the 1964 Aston Martin DB5 that 007 drove in Goldfinger and Thunderball really stands out. It had a long list of gadgets: extra-large bumpers for ramming, machine guns, ejector seat, smoke screen, oil slicks, etc. It also had a feature that was ahead of its time: a GPS-like location map. It was so popular that there has been a recent manufacture of similar parts at prices exceeding €3.5 million.
–
John Wick (2014): 1969 Mustang.
Now for something more recent. Keanu Reeves drives a 1969 Mustang in John Wick, and all future releases on the horizon. Despite the fact that one of his most famous films takes place on a bus, here the Canadian actor drives a 1969 Mustang Mach with a 390 V -8 or a 428 engine. It is so real that it hardly needed tuning.
–
Jurassic Park (1993). Ford Explorer XLT UN46 from 1992.
What would happen if the warmth that you felt on the back of your neck was actually the breath of a Tyrannosaurus Rex? Well, that's what happened in Jurassic Park, the first film in the franchise by Steven Spielberg in 1993. One of the film's seminal set pieces involved SUVs that, despite looking like jeeps, were Ford Explorers. They were adapted by George Barris, an industry professional. The filming used six cars that were attacked, trampled, overturned, and beaten by prehistoric predators. In total, three dumpsters were filled with the destroyed pieces.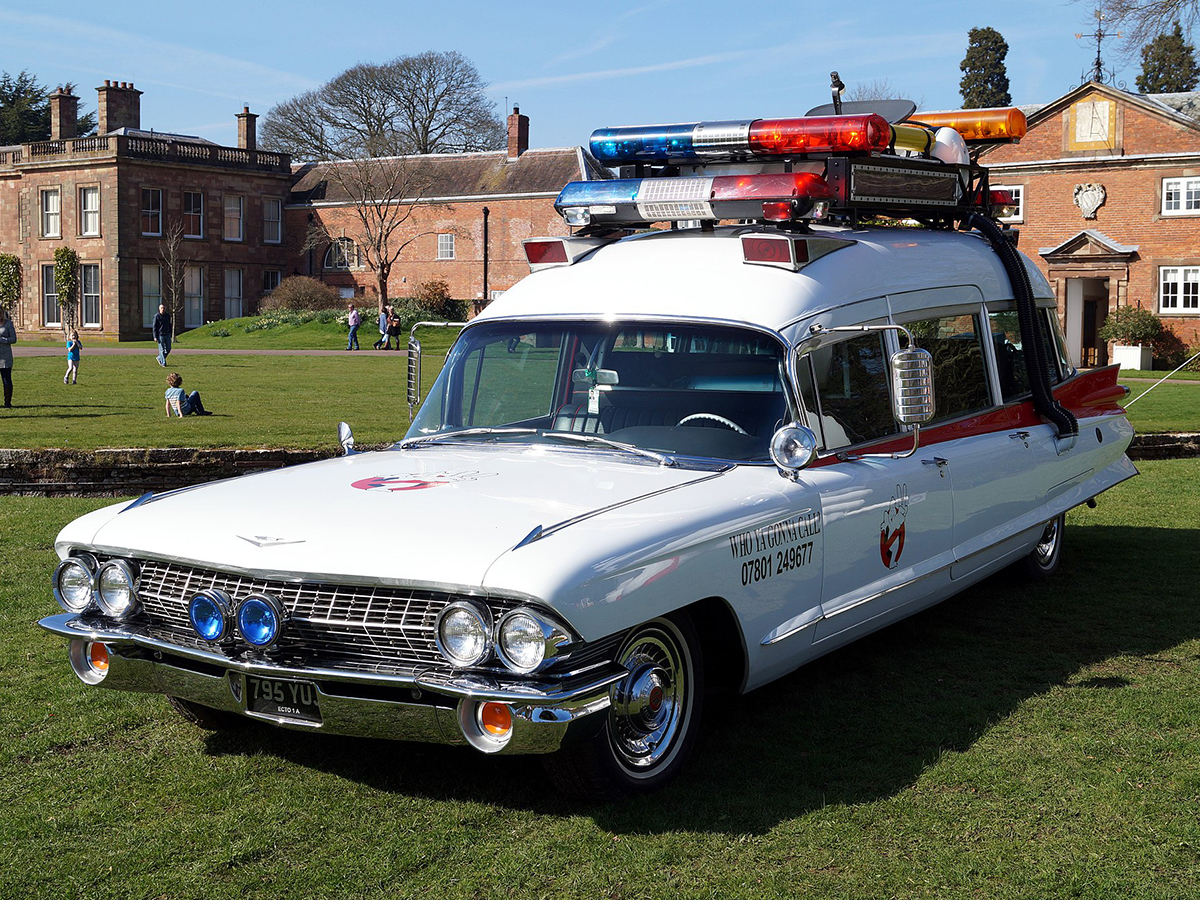 –
Ghostbusters (1984): 1959 Ectomobile and Cadillac Miller-Meteor.
Is there anything more distinctive than the opening tune in Ghostbusters? Yes, their car. The Ectomobile, or ECTO-1 and ECTO-1A, is equal to, or more famous than, its four main characters. It is so distinctive because it is a converted 1959 Cadillac Miller-Meteor that was turned into a kind of hearse or ambulance. The original sketch was in black, but they ended up leaving it white. Anecdotally, it is one of the characters who 'fixes' it during the footage. Dan Aykroyd proceeds to do "some suspension and shock work, brakes, brake pads, lining, steering box, transmission, rear end, new rims, mufflers and a bit of wiring before it can go up in flames". It didn't; in return, he helped rid New York City of spooks.
–
Dumb and Dumber (1994): 1884 Ford Econoline.
Shock comedy Dumb and Dumber was a box office hit and led to many sequels that never matched the original. Travelling in a van named Shaggin' Wagon, the characters Lloyd Christmas and Harry Dunne crossed the United States going from caper to caper. The car was actually a 1984 Ford Econoline that they spruced it up with extras. A brown carpet was laid inside and out, along with a tail, floppy ears, paws, a nose, whiskers, and a tongue. The van's windshield looked like the eyes of a dog. They even had to lift one hind leg in order to reach the gas cap!
–
Thelma & Louise (1991): 1966 Ford Thunderbird.
Those two outlaws from a 1990s classic drove a 1966 Ford T-Bird. This car was chosen for the two women who, fed up with their respective lives, decide to flee, because it was easy to shoot in it: you could shoot the actresses in the front and put someone else in the back. That's why it remained almost identical to the original model. Since the car was acquired by the Metro MGM Movies company in 1991, it has been sold at auction for around €70,000.
–
A television gift… Knight Rider (1982): Pontiac Firebird Trans-Am from 1982.
"KITT, I need you." That was Michael Knight's battle cry as he headed for his car, which responded by flashing its red headlight. This model was a 1982 Pontiac Firebird Trans-Am. The name of the main character (and that of the original series) came from the company that designed it, Knight Industries Two Thousand. When updating it with that famous red and black design, it included fictional functions such as a 'Turbo Boost' to get it to jump, it was self-driving, it could launch missiles and even included an ejector seat. A classic that some still try to recreate.