Motorcycle rider: now that we must all limit our travels to the bare minimum, maybe you've got a problem. Where to leave your helmet without it tipping over, falling or being scratched?  
Helmets are in charge of keeping our head in one piece when we ride our motorbike, but once we've parked it, we're not always able to keep helmets in a safe place.
Their shape doesn't hold them stable on a flat surface, and so we tend to leave them leaning on the inner lining so that they won't roll over, although this risks dirtying or ruining this lining. Besides, this position prevents us from leaving gloves or keys inside the helmet, as many motorcyclists do.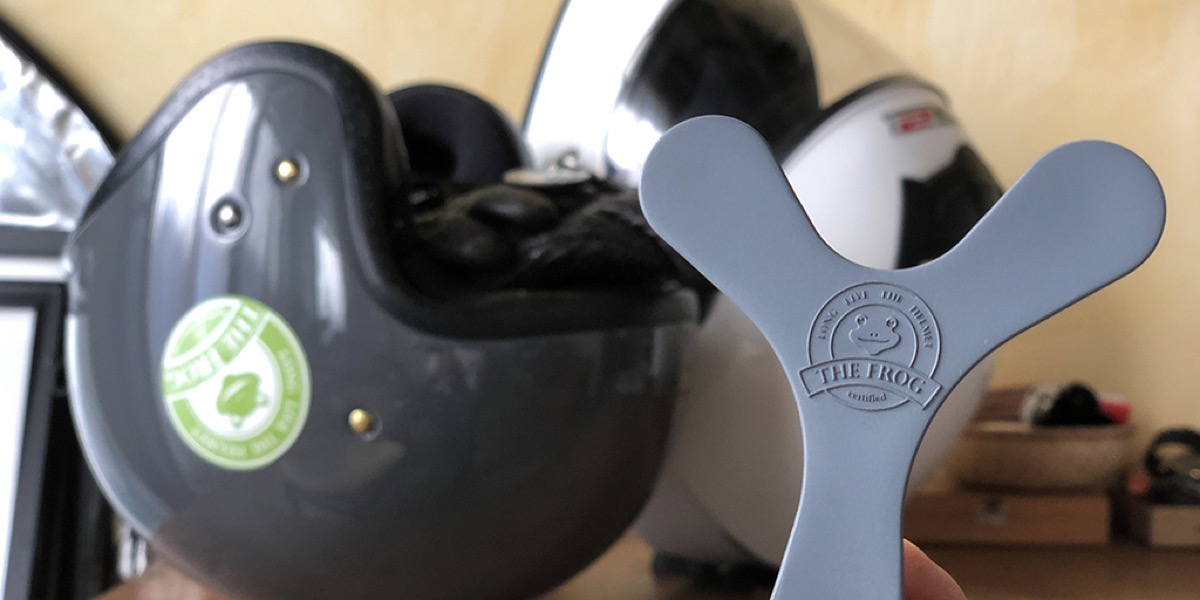 A helmet is one of the most expensive pieces of equipment (or at least it should be for safety reasons). That's why Luis de Arquer, a pianist and composer by profession and a motorcycle rider by vocation, created a start-up whose mission is to keep helmets safe once they've been taken off heads.
The Frog Helmet is the name of the company whose main product is The Frog. "It's a gadget that allows you to leave the helmet mouth upward without it rolling or dropping, thus avoiding the typical scratches, blows or falls," says Adrià Cabiscol, who's in charge of the firm's communications.
Manufactured in high-resistance polyurethane, The Frog is a helmet support that works like a tripod and is based on Euclid's Axiom. Its three points of support prevent the helmet, no matter what kind it is, from moving once it is put into place.
"We came up with the idea eight years ago, and in the two years we've been manufacturing we've been able to distribute more than 2,000 'frogs' around the world," adds Cabiscol.
After being distinguished as the best design of the year in the Ease of Use category of the A'Desig Awards in 2018 and receiving a nomination for the Talent Prizes in Barcelona, at the end of last year The Frog opened a crowdfunding campaign on the Kickstarter platform: "It was a success and we achieved our objective (3,000 euros) and ended up with a little over 3,500 euros."
In addition to several physical sales points in Barcelona, among them the Librería Raima ("the biggest in Europe"), the device is available on the brand's own website.